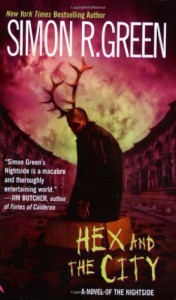 John Taylor gets hired by Lady Luck to find the origins of the Nightside. Along with the insane Madman, undead Sinner, and his lover, the succubus Pretty Poison, Taylor goes looking for answers, bringing him face to face with the most powerful denizens of the Nightside. But what does the origin of the Nightside have to do with his missing mother?
Hex and the City was a good way to wrap up the first part of the Nightside saga. We learn who's been hounding John all of his life, the origin of the Nightside, and the identity of John's mother, as well as the connection between Walker, the Collector, and John's father. As always, there's a good amount of gore and dark humor.
All is not perfect in the Nightside, however. After reading four of them in relatively rapid succession, I reallize how formulaic they can be. Also, the dialog is a little repetitive between volumes. Much like the Dresden Files, the Nightside saga probably shouldn't be devoured one right after another.
All in all, Hex and the City is a good light read. I'll be picking up the next one sooner or later.