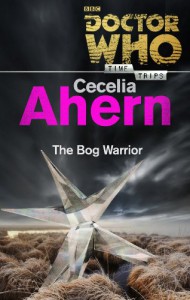 When the Doctor witnesses a masked ball on a far off planet, he finds himself in the middle of a dispute between two factions. Who are the Bog Warriors? And can The Doctor get Prince Zircon and Princess Ash together? Of course he can! He's The Doctor...

I got this from Netgalley.

The Time Trips series has been a mixed bag. I enjoyed the hell out of some of them but others didn't hold my interest. This one is firmly in the "meh" category.

On the surface, this is a retelling of Cinderella on an alien world with The Doctor involved. Unfortunately, he's only on the periphery for most of the story. As I've said in the past, when I read a Doctor Who novel or short story, I'd like the Doctor to be front and center, flying around in the TARDIS and reversing the polarity of the neutron flow like only he can. He was pretty much a background character in this.

However, when the Doctor was on stage, he was perfectly rendered, saving this book from one star territory. The Bog Warriors were also interesting. The rest of the story, not so much.

I'm not familiar with Cecelia Ahern's work but maybe people who are would get more mileage out of this one. Two stars and it had to work for them.